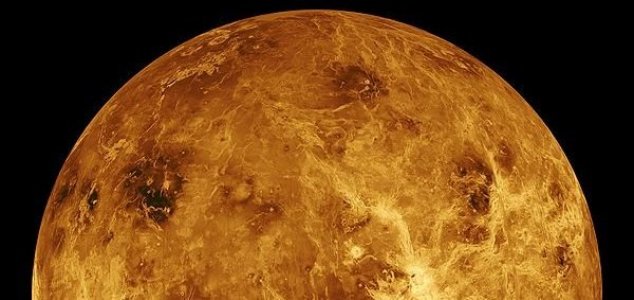 Venus's surface has been shaped by volcanism.

Image Credit: NASA
Scientists have identified four bright spots on the surface that are believed to be volcanic in nature.
The enigmatic second planet from the Sun possesses a thick atmosphere and a surface that has been forged by rampant volcanism over the course of its history. While evidence of this activity can be found all over the planet, it hasn't been clear to what extent volcanism persists on Venus today.
In an ongoing research project, Alexander Bazilevskiy and colleagues at the Max-Planck Institute for Solar System Research in Germany put together detailed mosaics of the surface from numerous images taken from orbit. By analyzing the relative brightness of the surface they were able to identify four points of light that seemed to indicate that something was still going on.
The team believes that these bright flashes could be the site of extensive lava flows, rows of cinder cones or hotspots of volcanic activity similar to those found on Jupiter's moon Io.
Source: Discovery News | Comments (7)
Similar stories based on this topic:
Tags: Volcano, Venus