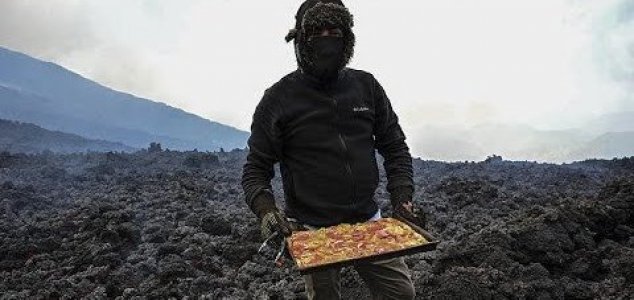 Don't try this at home...

Image Credit: YouTube / No Comment TV
An entrepreneur from Guatemala has found a rather unique (and dangerous) way to cook pizza.
Whereas most people would more likely run a mile than step onto the crumbling lava-strewn slopes of an active volcano, Mario David Garcia Mansilla - who has a passion for making pizza - has discovered a unique way to make money by providing tourists with his volcano-cooked delcacies.
Mansilla - now a tourist attraction in his own right - can often be found on the slopes of the Pacaya volcano preparing his ingredients and cooking pizza by placing the baking tray next to the lava.
The eye-watering heat of the volcano makes quick work of the food and visitors to the area will often pay a premium to sample the delicacy of sliced pizza prepared in this unusual manner.
He now makes his way up the slopes on a near daily basis carrying 60lbs of equipment and ingredients with him.
Footage of Mansilla in action shows him stepping on the shifting, crumbling rocks at the edge of the lava flow where even the slightest miscalculation could spell disaster.
You can check him out in the video below.
Source: Oddity Central | Comments (3)
Tags: Pizza, Volcano