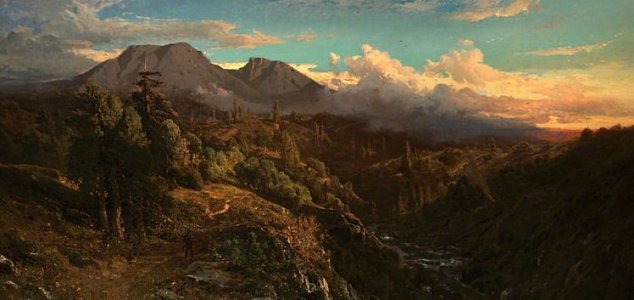 Sunset Glow on Mt. Tamalpais ( 1896 )

Image Credit: William Keith
Researchers have been able to piece together clues about the environment by looking at old paintings.
While to the untrained eye a sunset in an old painting might seem like little more than a fascinating work of art, to scientists these images from the past can also carry important clues indicating the state of the environment at the time they were painted.
Some of the best known examples of this concern the combination of colors used by artists in paintings with sunsets. In times associated with a known volcanic eruption for instance, sunsets in paintings appeared more red due to the ash and dust ejected in to the atmosphere.
"Nature speaks to the hearts and souls of great artists," said atmospheric physicist Christos Zerefos who co-authored the study. "But we have found that, when colouring sunsets, it is the way their brains perceive greens and reds that contains important environmental information."
By analyzing hundreds of paintings created within the last 500 years, researchers have been able to determine the state of the environment at those times as well as the quantity of volcanic aerosols present in the atmosphere.
"We wanted to provide alternative ways of exploiting the environmental information in the past atmosphere in places where, and in centuries when, instrumental measurements were not available," said Zerefos.
Source: Phys.org | Comments (7)
Tags: Paintings, Climate Change, Weather