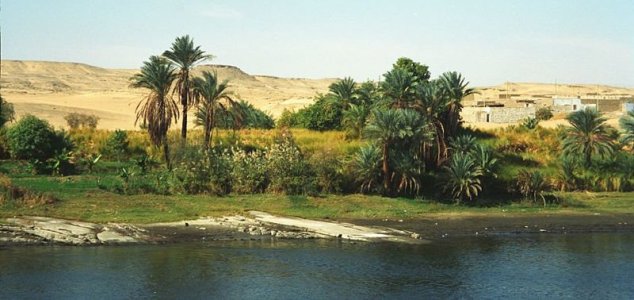 Oxyrhynchus is located on a branch of the Nile River.

Image Credit: CC BY-SA 3.0 Jerzy Strzelecki
A crypt dating back to the 6th century is home to what is thought to be the earliest depiction of Christ.
Located south of Cairo in the ancient Egyptian city of Oxyrhynchus, the crypt is believed to have served as the final resting place of several writers and priests.
The image of Jesus was discovered by a team of Spanish archaeologists and shows a man in a short tunic with his hand raised up in a gesture as if to give blessings. The depiction has managed to survive over the centuries thanks to a thin layer of paint that covers it.
"We could be dealing with a very early image of Jesus Christ," said Dr Padro who is working with a team of experts to decipher inscriptions on the wall that could help them to identify exactly who the figure is intended to be.
In addition to the Jesus image the tomb has also been home to a great many other discoveries.
"Another exceptional find of the expedition is the tomb of a scriber who was buried together with his working tools: a metallic inkpot which is still full of ink and two new pens for the deceased to write during the eternal life," said Dr Padro.
Source: Yahoo! News | Comments (26)
Tags: Egypt, Jesus