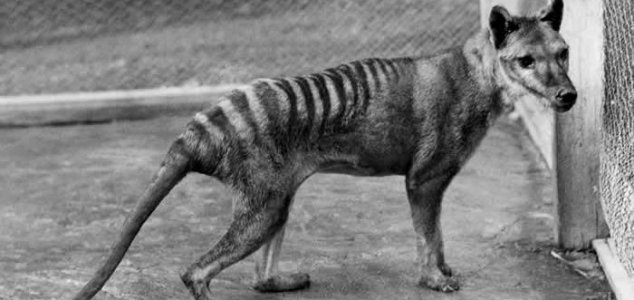 An image of Benjamin taken by a different photographer.

Image Credit: Benjamin A. Sheppard
The last known living thylacine became rather violent while it was being photographed back in 1933.
Biologist David Fleay had gone to Hobart zoo over 80 years ago to take what would become a well known series of photographs of Benjamin, the last known Tasmanian tiger in captivity.
In a new exhibition at the Queen Victoria Museum and Art Gallery in Launceston however, new information has arisen suggesting that this final photo shoot didn't go quite according to plan.
Based on the testimony of Fleay's daughter Rosemary, it has been revealed that the world's last known captive thylacine actually managed to sink its teeth in to the photographer's buttocks following two warning 'yawns' while he was trying to take its picture.
Fortunately Fleay didn't suffer any serious injuries but the thylacine itself sadly died just three years later, taking with it any last hope of saving the species from its inevitable extinction.
Source: News.com.au | Comments (16)
Similar stories based on this topic:
Tags: Thylacine