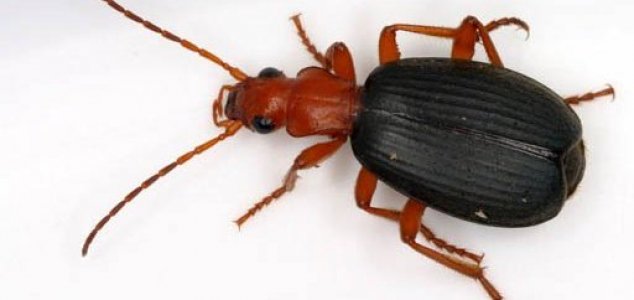 A bombardier beetle.

Image Credit: CC BY-SA 2.5 Patrick Coin
Researchers are turning to the natural world to help find new ways of tackling cash machine thieves.
The bombardier beetle possesses a highly potent defense mechanism that is sure to discourage even the most determined of predators. When the insect is threatened it mixes together two chemicals stored in chambers within its own body to produce a toxic acidic spray that can be spewed on to its enemies.
Now researchers in Switzerland have taken inspiration from the beetle's defense system in the development of a new anti-vandalism mechanism that can be used to protect ATM machines and other sensitive devices from thieves.
The new system detects when someone has broken through the top layers of plastic and then combines two chemicals to form a hot foam that can be sprayed straight in to the vandal's face.
"When you see how elegantly nature solves problems, you realise how deadlocked the world of technology often is," said Prof Wendelin Jan Stark.
Source: CBS News | Comments (10)
Tags: Beetle, Cash Machine, ATM