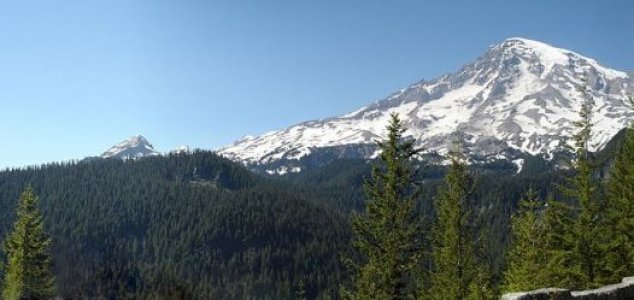 A view of Mount Rainier.

Image Credit: PD - Mmxx
Amateur pilot Kenneth Arnold kick-started the modern UFO phenomenon after a sighting back in 1947.
Arnold had been flying his plane over Mineral, Washington on a clear day in June when he witnessed a formation of nine objects near Mount Rainer. The mysterious aircraft were stretched out across an area of around five miles in what he described as "a diagonally stepped-down, echelon formation."
As he watched the objects darting around he realized that he was not looking at any conventional aircraft. Assuming them to be some type of prototypes being tested by the military, Arnold estimated that they were traveling at speeds of up to 1700mph, far faster than any known aircraft of the time.
Once word of his remarkable experience got out his story started to make headlines around the country. The term "flying saucer", a phrase that would continue to be used up until the present day, was famously first coined after he had described what he had seen to reporters at the Pendleton newspaper on June 25th. What he had actually said however was that the objects had flown "like a saucer if you skip it across the water", not that the objects were literally saucer-shaped.
By the time this error was realized however it was too late - "flying saucers" had entered in to the mainstream consciousness and the modern UFO phenomenon was born.
Source: The Atlantic | Comments (33)
Similar stories based on this topic:
Tags: UFO, Kenneth Arnold, Flying Saucer