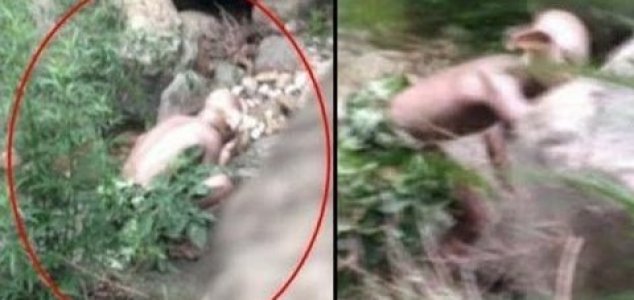 Two images of 'Gollum' in the Chinese mountains.

Image Credit: YouTube / Epic Wildlife
A strange Gollum-like creature photographed in China has been revealed to be an actor in a costume.
Internet users were left baffled this week when pictures emerged on social media showing an odd gangled creature crouching down on some rocks.
Allegedly encountered by a hiker in the mountains near the Great Wall of China, the familiar looking creature bears more than a passing resemblance to Gollum from Lord of the Rings.
As it turns out however, far from being a real-life counterpart to one of Middle-Earth's most recognisable inhabitants, the peculiar looking cryptid was actually nothing more than an actor in a costume who was being filmed as part of a movie.
The unwary star was believed to have been taking a break to relieve himself behind some rocks in between takes when the hiker appeared out of nowhere and started to take photographs of him.
Source: Telegraph | Comments (29)
Tags: Gollum, China