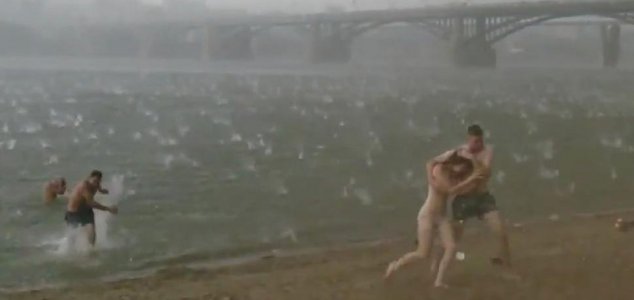 People enjoying the warm weather ran for cover from the hail.

Image Credit: YouTube / Lilya Goppe
Swimmers and sunbathers ran for cover as huge chunks of ice the size of golf balls rained down on them.
The eastern Siberian city of Novosibirsk played host to a freak hailstorm on Saturday, turning an otherwise ideallic day at the beach in to a scene from an apocalyptic disaster movie within the space of just a few minutes.
Beachgoers were left flabbergasted when a torrent of huge hailstones suddenly started to rain down from the heavens despite the hot summer temperatures. Many people ran for cover while shielding themselves from the onslaught while others attempted to cram together underneath a beach umbrella in the hope that it would protect them from the ice.
The hailstones weren't the only freak weather to hit Siberia's summertime this weekend either - in parts of Russia's Ural region there were reports of sudden blizzards and snowdrifts while temperatures plummeted from 20 degrees to near freezing within the space of a few hours.
Source: Russia Today | Comments (27)
Tags: Hailstones, Beach, Siberia