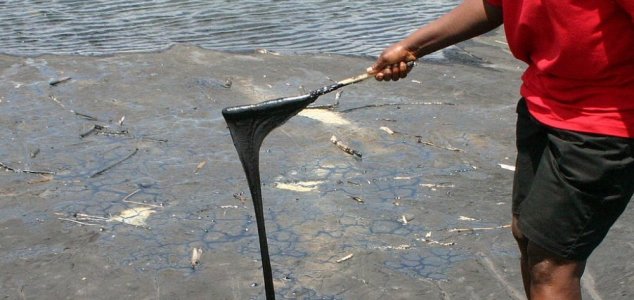 A pool of oil on the shores of Pitch Lake.

Image Credit: PD - Jw2c
The discovery could mean that there is a chance of finding life on other worlds such as Titan.
Discovered in Trinidad's Pitch Lake, the largest naturally occurring asphalt lake in the world, the microbes appeared to be thriving inside droplets only one-fifth the size of a drop of water.
"Oil was considered to be dead," said lead study author Rainer Meckenstock. "The microbes most likely were enclosed in droplets in the deep subsurface and ascended together with the oil."
The discovery is particularly significant with regard to the hunt for life on other worlds because places like Saturn's moon Titan possess hydrocarbon lakes which may have also formed in a similar manner. If this turns out to be the case then there is the possibility of finding life forms there as well.
Scientists are now working to understand how the microbes are surviving and whether or not it would be possible for them to adapt to living in the hydrocarbon lakes typically found on Titan.
Source: Yahoo! News | Comments (10)
Similar stories based on this topic:
Tags: Life, Oil