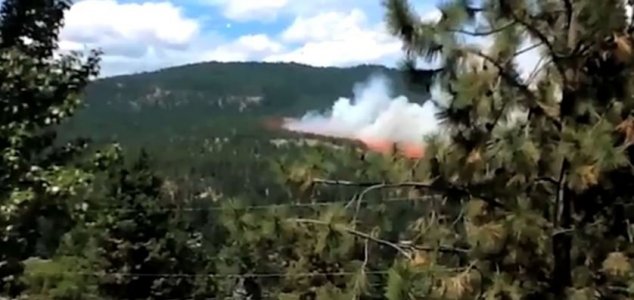 The object turned up while firefighters battled the blaze.

Image Credit: YouTube / Castanet News
A bright object can be seen shooting across the sky during a news item about a fire in West Kelowna.
The unexpected anomaly turned up in video footage originally recorded by 36-year-old Sarah Chun before being included in a news report detailing the efforts of firefighters to tackle the wildfire that had spread across Smith Creek.
The UFO appears approximately 37 seconds in to the video and resembles a bright orb-like object which heads towards the right of the frame at considerable speed while leaving what looks like a faint vapour trail behind it.
Despite being posted back in July the video has only recently gone viral and Internet users have since been debating the nature of the object on social networking sites.
MUFON photograph analyst Marc D'Antonio believes that the object could be a meteor.
"It is an Earth-grazer, a meteor that approaches the atmosphere at a shallow angle, and continues on, skipping off the atmosphere back into space," he said.
Source: Yahoo! News | Comments (43)
Tags: Canada, UFO, Fire