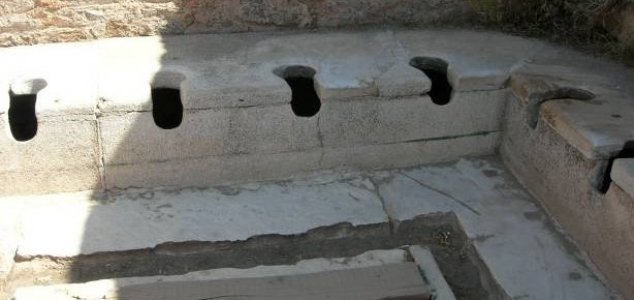 A row of Roman toilets with seats made from stone.

Image Credit: PD
An excavation at Hadrian's Wall in Northumberland has dug up an ancient wooden toilet seat.
The perfectly preserved artifact represents the only discovery of its kind ever made and would have been used by Roman soldiers manning a fort situated along the wall in the 2nd century.
The ancient lavatory is a particularly rich source of artifacts because at the time, anything dropped down a Roman latrine is unlikely to have been retrieved. The seat itself was found in a muddy trench that had been used to dump rubbish.
"We know a lot about Roman toilets from previous excavations at the site and from the wider Roman world, which have included many fabulous Roman latrines," said Dr Andrew Birley.
"But never before have we had the pleasure of seeing a surviving and perfectly preserved wooden seat. As soon as we started to uncover it there was no doubt at all on what we had found."
Source: BBC News | Comments (26)
Tags: Toilet, Roman, Hadrian's Wall