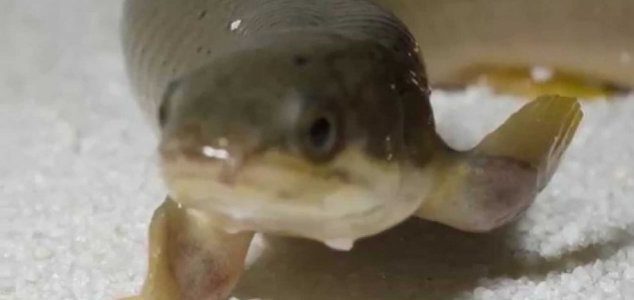 A bichir can haul itself out of the water and walk on land.

Image Credit: YouTube / Nature Video
Scientists compared the development of walking fish raised on land with that of those raised in water.
The first land-dwelling creatures are believed to have emerged from the Earth's oceans 400 million years ago, but the exact mechanism that saw them transition from fish to air breathing land animals is not yet fully understood.
In an attempt to mimic this process, scientists raised a number of bichir - modern day fish that can survive both in and out of the water - in both environments to compare their development.
Over the course of eight months the fish that were raised entirely on the land seemed to develop subtle differences over their water-dwelling counterparts that made them more suited to their land-based lifestyle such as a more effective gait and a tendency to raise their heads up higher.
These small differences are reminiscent of the changes that our first land-dwelling ancestors would have developed when they first emerged from the sea millions of years ago.
Source: Washington Post | Comments (2)
Tags: Fish, Evolution