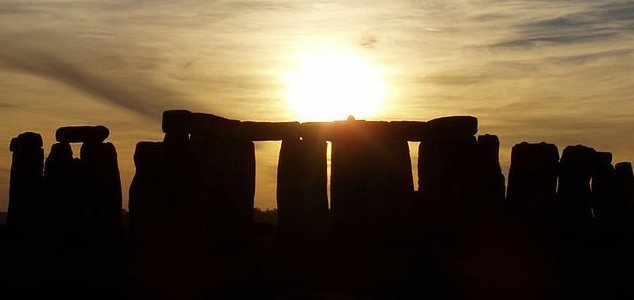 Stonehenge itself silhoutted against the sun.

Image Credit: CC BY-SA 2.5 Jeffrey Pfau
A Neolithic site consisting of 50 large stone blocks has been found two miles north-east of Stonehenge.
The site, which is believed to have had significant spiritual and ritualistic significance, was discovered by archaeologists who used ground-penetrating radar to effectively 'X-ray' the area.
Several dozen huge stone blocks measuring up to 3m long and 1.5m across were found lying length-ways under the ground in a c-shaped line measuring 330m long. It is generally believed however that the stones may have once stood vertically upright.
Dating back to around 2500 BC, the stones are likely to have once formed a semi-circular enclosure facing the River Avon. The site was later reused to build what is known as the Durrington Walls, an even larger pre-historic henge that was 12 times the size of Stonehenge.
The research team, which consisted of investigators from Birmingham and Bradford universities as well as Vienna's Ludwig Boltzmann Institute, also uncovered evidence of up to 60 other pre-historic monuments in the region including standing stones, burial mounds and ritual pits.
Source: Independent | Comments (16)
Similar stories based on this topic:
Tags: Stonehenge