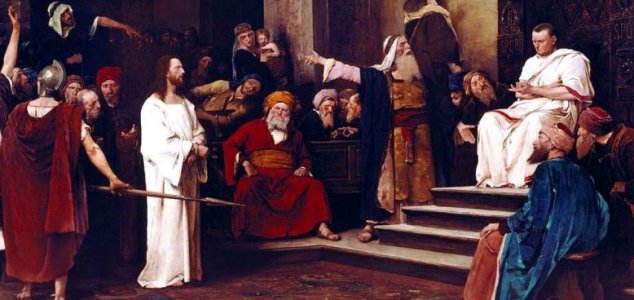 Jesus being trialled before Pontius Pilate.

Image Credit: Mihaly Munkacsy, 1881
Archaeologists believe that they have uncovered the remains of Herod the Great's palace in Jerusalem.
The remains of the palace were discovered during the excavation of an abandoned prison that was once used when the city was controlled by the Ottomans and the British.
Among the finds at the site were foundation walls and a sewage system that was believed to have supported the building.
Whether Jesus really was tried at the site under the watchful eye of Pontius Pilate however remains a matter of some debate.
Much of the confusion over the issue stems from differing interpretations of the New Testament Gospels that describe the trial. Some believe that the Gospel of John confirms that the trial did take place at Herod's palace while others believe it refers to a military encampment and that the trial actually took place at Antonia Fortress in the northeastern part of the city.
The majority view however is that the palace was indeed the place where Jesus's trial occurred.
"There is, of course, no inscription stating it happened here, but everything - archaeological, historical and gospel accounts - all falls into place and makes sense," said Prof Shimon Gibson.
Source: Independent | Comments (20)
Similar stories based on this topic:
Tags: Jesus, Herod