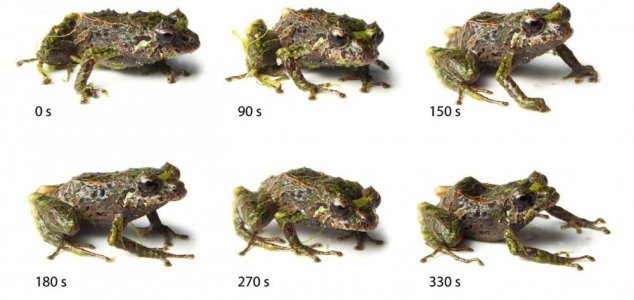 The frog can change its skin texture within minutes.

Image Credit: Zoological Journal of the Linnean Society
Found in the Ecuadorian Andes, the unique species is able to perfectly blend in with almost anything.
Chameleons are well known for being able to change their skin coloration as a way to camouflage themselves, but now a frog discovered in Ecuador may be able to give even these masters of disguise a run for their money thanks to its unique ability to change the actual texture of its skin to match the terrain it is sitting on.
Found within the Reserva Las Gralarias, a nature reserve situated in the western Andean cloud forest, the new amphibian is thought to be the first species ever to exhibit this shape-shifting ability.
Researcher Katherine Krynak, who discovered the frog while on an expedition with her husband, described how they had originally believed that they had picked up the wrong creature when it seemed to change from spiky to smooth-skinned when placed on a sheet of plastic.
"I then put the frog back in the cup and added some moss," she said. "The spines came back... we simply couldn't believe our eyes, our frog changed skin texture !"
It is thought that this ability may help the frogs to protect themselves against predators.
"The spines and coloration help them blend into mossy habitats, making it hard for us to see them," said Krynak. "But whether the texture really helps them elude predators still needs to be tested."
Source: Eurekalert.org | Comments (11)
Similar stories based on this topic:
Tags: Frog, Andes