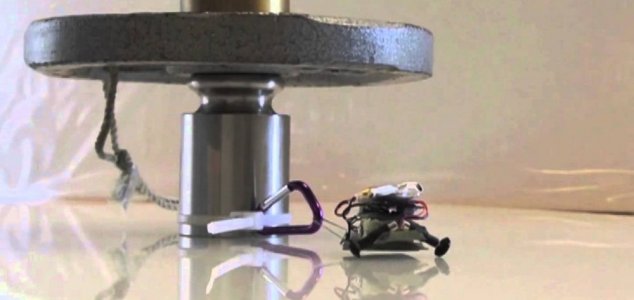 The robots can pull enormous loads.

Image Credit: YouTube / Stanford / New Scientist
Engineers at Stanford University have developed a tiny robot with some impressive pulling power.
In the animal kingdom ants are well known for their ability to carry objects exceeding several times their own body weight, but now a group of mechanical engineers from California has managed to put together a robot exhibiting a similarly mighty carrying capacity.
The ultra-strong robot was actually inspired by geckos and uses tiny rubber spikes that help it to grip surfaces. To enable movement the robot shimmies along like an inchworm with one pad staying fixed in place while the other moves forward and vice versa.
The finished product is certainly impressive - weighing just 9 grams the robot is able to haul an object of 1kg up a vertical surface under its own power. A second smaller model weighing 20 milligrams is able to carry more than 500 milligrams up a wall just as effectively.
The engineers were even able to build a 12-gram version of the robot based on the same principles that is capable of hauling an object more than 2,000 times its own weight along a horizontal surface.
Scaled up this feat is the equivalent of a human pulling a blue whale along the ground.
Source: New Scientist | Comments (9)
Similar stories based on this topic:
Tags: Robot