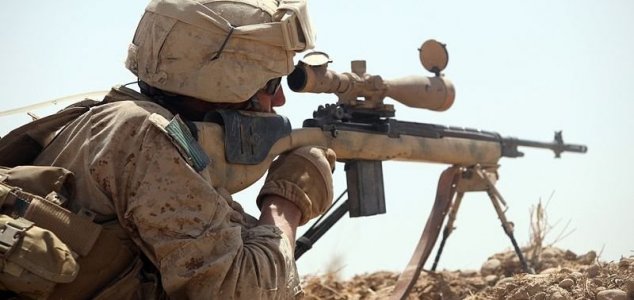 The technology enables extremely accurate shots.

Image Credit: SSgt. Ezekiel R. Kitandwe
The ridiculously accurate projectiles are able to track and hit a moving target over long distances.
The job of a military sniper can be difficult at the best of times, but when you add strong winds and dusty terrain in to the mix, as was common during the campaign in Afghanistan, attempting to hit a distant target can become almost impossible.
To address these issues the US military has employed technology developed by the Defense Advanced Research Projects Agency (DARPA) to create 'smart' bullets that actually steer themselves while in the air so that they almost always hit their target.
A recently released demonstration video shows both a trained marksman and a sniper novice managing to successfully hit a moving test target located at the other end of a firing range.
Known as Extreme Accuracy Tasked Ordnance ( EXATCO ), this remarkable new technology could see use by military personnel in live combat situations in the not-too-distant future.
"True to DARPAís mission, EXACTO has demonstrated what was once thought impossible: the continuous guidance of a small-caliber bullet to target," said DARPA's Jerome Dunn.
"This live-fire demonstration from a standard rifle showed that EXACTO is able to hit moving and evading targets with extreme accuracy at sniper ranges unachievable with traditional rounds."
While this technology might sound scary, during live combat it could help to reduce civilian casualties by ensuring that fired bullets will always hit their intended targets.
The DARPA demonstration video showing the bullets in action can be viewed below.
Source: Live Science | Comments (28)
Tags: US Military, Self-Steering Bullets