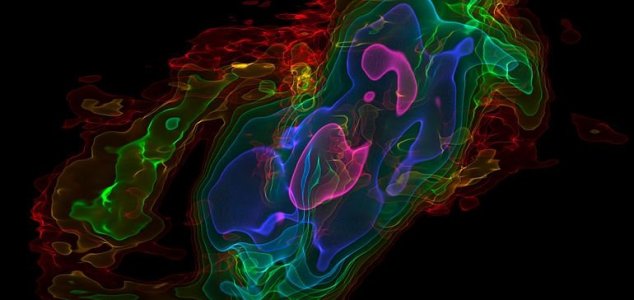 Is your perception of the third dimension actually an illusion ?

Image Credit: ALMA (ESO/NAOJ/NRAO)
New mathematical models lend credence to the idea that we live in a universe that is essentially flat.
The concept of depth is something we see, experience and take for granted in our everyday lives, but now according to scientists at the Vienna University of Technology we might actually be living in a flat two-dimensional universe in which depth is simply an illusion.
This idea of a holographic universe, which was first proposed back in 1997, suggests that what we perceive as a third dimension is simply the 'horizon' of a two-dimensional image. The concept is similar to what we see in the holograms found on bank cards.
By creating new gravitational theories based on this idea of 'flatspace', the researchers were able to determine that the concept of a holographic universe, at least in theory, could actually have merit.
In particular their models now suggest that the idea of a two-dimensional universe projecting a three-dimensional appearance may actually be possible in a universe where spacetime is flat.
"If quantum gravity in a flat space allows for a holographic description by a standard quantum theory, then there must by physical quantities, which can be calculated in both theories - and the results must agree," said theoretical physicist Daniel Grumiller.
It's certainly true that we have only a very limited perception of the universe around us - there is nothing to say that what we think of as depth must actually be a tangible, physical dimension.
Despite these new findings however the idea that we are all living inside a holographic universe is a concept that, at least for now, is likely to remain firmly rooted in the realms of theoretical physics.
Source: Tech Times | Comments (26)
Tags: Universe, Hologram