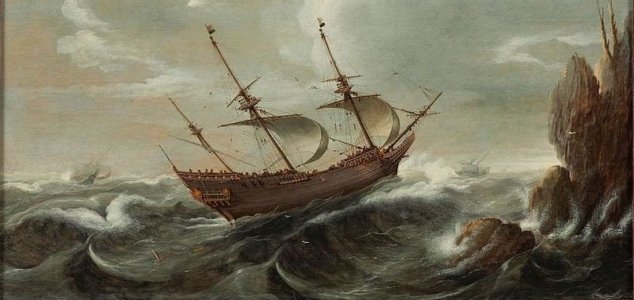 What were the 'ships in the sky' witnessed by the fishermen ?

Image Credit: Cornelis Verbeeck
Researchers have been investigating a 350-year-old UFO case that remains a mystery to this day.
The incident occurred on the afternoon of April 8, 1665 at around 2pm when a group of fishermen anchored near Barhöfft witnessed what they described as "ships in the sky" engaged in battle.
"After a while out of the sky came a flat round form, like a plate, looking like the big hat of a man," wrote author Erasmus Francisci who had gathered news reports about the incident in 1689.
"Its color was that of the darkening moon, and it hovered right over the Church of St. Nicolai. There it remained stationary until the evening. The fishermen, worried to death, didn't want to look further at the spectacle and buried their faces in their hands."
According to Francisci's report, the men who had witnessed the objects fell ill shortly afterwards and suffered from trembling and pain in their head and limbs. The entire incident was later deemed "unexplained" and the cause of the men's symptoms was never found.
In their June 2015 analysis of the case, researchers Chris Aubeck and Martin Shough looked at multiple possible explanations for what the fishermen had seen but failed to find a definitive answer.
In the end they concluded that it was "a remarkable case and - true or not - ought to be considered among the first alleged 'flying saucer' sightings in history."
Source: The Epoch Times | Comments (73)
Similar stories based on this topic:
Tags: UFO