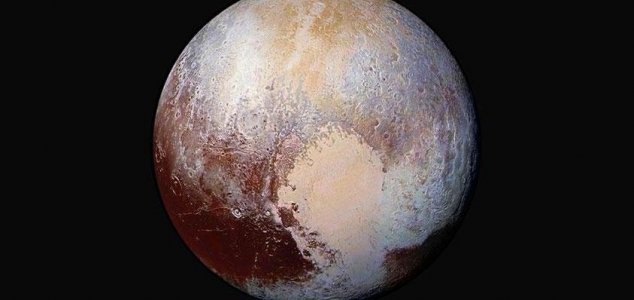 A recent color image of Pluto showing the planet in unprecedented detail.

Image Credit: NASA
New Horizons principal investigator Alan Stern has referred to the planet as a 'scientific wonderland'.
As the data from New Horizons continues to slowly stream back to Earth scientists have been revealing more about what they've managed to find so far on Pluto and its moon Charon.
At a recent press conference the team announced that they had discovered flows of nitrogen ice moving and spreading across the plains at the edge of the planet's distinct heart-shaped region.
The ice appears to flow in much the same way as glaciers do on Earth and could go a long way to explaining some of the processes that have been recently reshaping Pluto's surface.
It is thought that these flows may be forming thanks to heat leaking from the planet's interior.
In addition to these discoveries the New Horizons team also took great pleasure in revealing that they had identified a haze of small particles extending 100 miles above the surface - a find that will force them to "basically start from scratch" with regard to what is currently known of Pluto's atmosphere.
The haze is thought to be responsible for the planet's reddish hue however much more research will be needed to determine exactly what it is made up of and how it came to be there.
There are even tentative hints that Pluto, like Europa, may also be home to a subterranean ocean.
Source: Irish Times | Comments (96)
Tags: Pluto, New Horizons