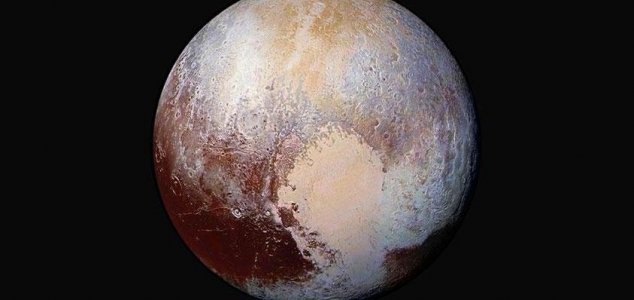 Could life exist within Pluto's watery interior ?

Image Credit: NASA
Scientists now believe that Pluto may have had a 'hot start' and has always had a subsurface ocean.
When NASA's New Horizons spacecraft performed a flyby of Pluto on July 14, 2015, it found, not a barren wasteland, but a world filled with a bewildering array of complex and varied surface features.
Since then, scientists have determined that, like Europa and Enceladus, Pluto is likely to be home to a vast subsurface ocean of liquid water that could have the potential to support primitive organisms.
While previously it was thought that this ocean was formed over a long period of time by the heat produced by radioactive elements in Pluto's core, a new study has cast doubt on this idea, instead suggesting that Pluto had much hotter origins and that its subsurface ocean may have in fact been around since the beginning - increasing the likelihood that life could have emerged there.
"When we look at Pluto today, we see a very cold frozen world, with a surface temperature of about 45 Kelvin," said study lead author Carver Bierson from the University of California, Santa Cruz.
"I find it amazing that by looking at the geology recorded in that surface, we can infer Pluto had a rapid and violent formation that warmed the interior enough to form a subsurface water ocean."
Determining the potential habitability of such an ocean however remains challenging.
"At this point, we don't know the ingredients or recipe needed for life to emerge on any world," said Bierson. "[But] we think liquid water is an important ingredient, and this work suggests Pluto has had that for a long time."
Source: Space.com | Comments (7)
Similar stories based on this topic:
Tags: Pluto