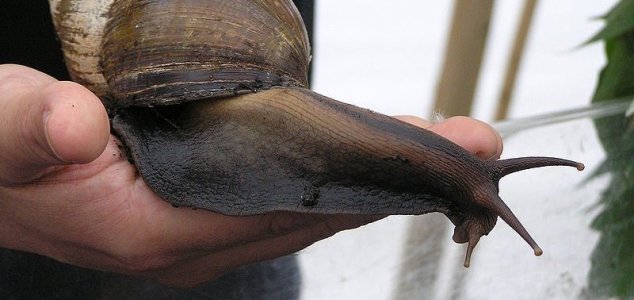 The giant African land snail is the largest snail in the world.

Image Credit: CC BY-SA 3.0 Grzegorz Polak
Authorities in Florida have been attempting to curb the recent influx of the world's largest gastropod.
With shells measuring up to 18cm in length this huge species of snail was first discovered in the state four years ago when a specimen turned up in Miami. Ever since then however their population has been spiraling out of control and authorities have struggled to keep them in check.
As an invasive species the snails have been creating havoc, not only due to their penchant for eating through numerous types of local plant life but for their tendency to carry infectious diseases.
"The fact is they're a human and animal health threat and they're a threat to Florida's agriculture," said state agriculture department spokesman Mark Fagan. "We can't let the population continue."
The snails have also proven particular resilient to extermination with organic pesticides failing to work and attempts to use metaldehyde pellets thwarted by their tendency to climb up trees.
The problem has become so bad that local officials have even set up a special 'snail hotline' so that workers can be quickly dispatched to a location when one of the creatures is sighted.
In total more than 158,000 of the snails have been removed over the last four years.
Source: Discovery News | Comments (17)
Tags: Snail, Florida