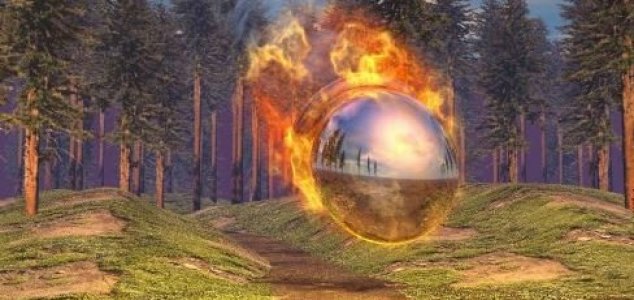 An artist's impression of the object that crashed in the Kecksburg woods.

Image Credit: Public Domain
Locals were out in force last week to celebrate the upcoming 50th anniversary of the famous UFO event.
The incident, which took place back in December 1965, started out with reports of a strange fireball that was observed by multiple witnesses as it streaked across six US states and parts of Canada.
Some observers reported seeing hot metal debris falling from the object while elsewhere there were reports of grasslands being set ablaze as the fireball whizzed over them.
Despite the sightings being fairly widespread however it would end up being the small town of Kecksburg in Pennsylvania where the incident would end up taking its most dramatic turn.
It started when a young local boy claimed that he had seen the object landing in nearby woods and his mother later reported it to the authorities when she saw strange blue wisps rising from the trees.
Several locals including members of the fire department went out to investigate the scene and came across an odd acorn-shaped object the size of a small car with strange writing on its surface.
Within a short space of time there were reports of an intense military presence at the crash site with army officials ordering civilians away from the scene while the object was being loaded on to a truck.
The incident was later played down as nothing more than a meteor impact however many people still believe that the military had been covering up something a lot more significant.
The event has since become so synonymous with the idea that the object was a crashed UFO that it is now often referred to as "Pennsylvania's Roswell".
Source: Triblive.com | Comments (25)
Tags: Kecksburg, UFO