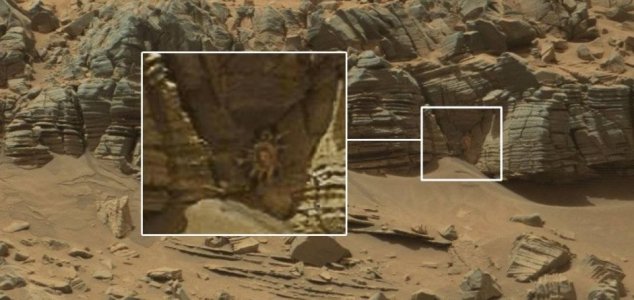 The 'crab' is almost certainly little more than a random rock feature.

Image Credit: NASA
A new image of a rocky outcrop on the surface of Mars shows what looks like a large crab-like creature.
We've seen a lot of strange and unusual items on the surface of Mars over the years including everything from a set of traffic lights to a perfect reproduction of President Barack Obama's head.
The explanation behind these peculiar sightings is a phenomenon known as pareidolia - the tendency for the human brain to see meaningful shapes in otherwise abstract patterns.
The most recent example is a photograph taken by the Curiosity rover of a rocky outcrop on the surface of Mars which appears to show a peculiar multi-legged creature hiding in a crevice.
As far as anomalies go this one is at least quite convincing and actually does look like a big crab.
Seth Shostak, the man in charge of SETI ( the Search for Extraterrestrial Intelligence ), is quite frequently bombarded with images like this one from eagle-eyed anomaly hunters.
"It's usually some sort of animal, but occasionally even weirder objects such as automobile parts," he said in an e-mail. "Maybe they think there are cars on Mars."
"Recognizing a crab in a landscape filled with wind-weathered rocks is no more surprising - nor more significant - than seeing a winking face in a semi-colon followed by a parenthesis. ;)"
Source: Huffington Post | Comments (175)
Similar stories based on this topic:
Tags: Mars, Pareidolia