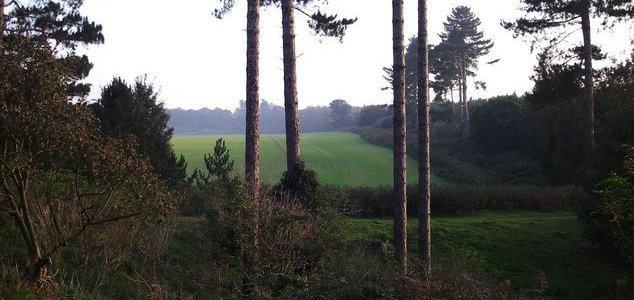 A UFO was believed to have landed in the forest in 1980.

Image Credit: CC BY-SA 2.0 Simon Leatherdale
Some dogs being walked through Rendlesham Forest in Suffolk, England have allegedly become unwell.
Situated near the Air Force base at RAF Woodbridge, the area of woodland where several US servicemen famously encountered a strange object back in December 1980 has since become something of a tourist attraction that is frequented by visitors and dog walkers on a regular basis.
Recently however reports have emerged suggesting that something in the forest may be making dogs sick - perhaps even something relating to the UFO landing incident itself.
It wouldn't be the first time that something like this has happened either - earlier this year one of the servicemen who originally attended the scene, John Burroughs, was awarded compensation due to the amount of radiation he was exposed to during the incident 35 years ago.
But could there really still be something in the woods capable of hurting people's dogs ?
Caroline Peters from Felsted in Essex is one of the dog owners affected by the problem. After spending only a short time in Rendlesham both her dogs took ill and almost died.
"We were there for about an hour-and-a-half," she said. "Ruby was off the lead but Sparkie was on the lead. We saw toadstools but they have been ruled out – there was nothing in their tests to suggest there had been any form of poisoning."
While some people subscribe to the idea that there may still be some remnant of the original UFO in the woods at Rendlesham, critics argue that there is not enough evidence to support this and that it is more likely that the dogs had suffered from a condition known as Seasonal Canine Illness.
"Even today ufologists squabble over what really happened at Rendlesham Forest in late December 1980," said UFO researcher and author Nigel Watson. "Did an alien spaceship land here? Were the US airmen who saw the UFO fooled by the light from a nearby lighthouse ? Or was it a hoax ?"
Comments (26)
Tags: Rendlesham Forest, UFO, Dogs