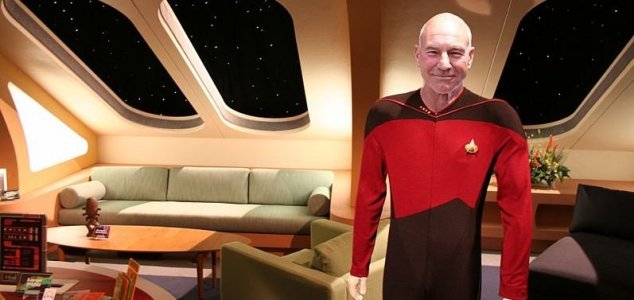 Star Trek communicator badges almost became a reality.

Image Credit: CC BY-SA 3.0 Loupeznik
The search giant once attempted to develop a real-life version of the Star Trek communicator badge.
The iconic device, which was frequently worn by the crew in
Star Trek: The Next Generation
, enabled Picard and his bridge officers to easily talk to one another wherever they might be.
While today the availability of modern smartphones has rendered this concept mostly obsolete, Google has revealed that it once tried to create a wireless communications device that could be worn on a person's clothes and tapped, just like in Star Trek, to turn its microphone on and off.
The circular device was connected to a mobile phone via Bluetooth and was developed for the purpose of experimenting with new ways of asking Google's voice search to look something up.
"I always wanted that pin," said Google's senior vice president Amit Singhal. "You just ask it anything and it works. Thatís why we were like, ĎLetís go prototype that and see how it feels.í"
Unfortunately however the idea never managed to make it past the testing phase.
Source: TIME Magazine | Comments (10)
Tags: Google, Star Trek