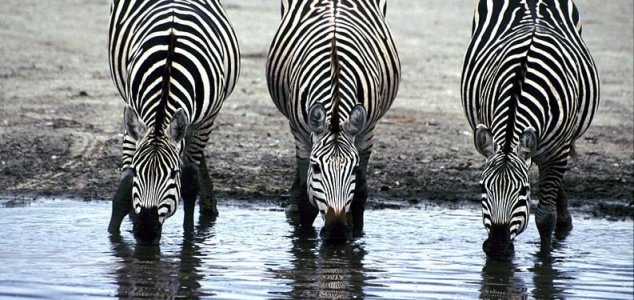 A zebra's stripes appear to dissuade biting insects.

Image Credit: John Storr
Scientists have played down the idea that a zebra relies on its stripes to help it hide from predators.
With its distinctive black and white stripes the zebra is one of the most recognizable animals in the world, yet the exact purpose of its monochromatic coat has remained a topic of debate for years.
One of the most common theories is that it helps the animals to stay camouflaged from lions and other predators in the African savannas, but now scientists in Canada have found evidence to suggest that having stripes doesn't actually help the animals stay hidden at all.
The key to their discovery was the realization that while the stripes might make zebras harder for humans to see in certain environments, not all animals see the same way we do.
Experiments using a set of fake stripes designed to simulate how a predator might see them concluded that they had a mostly negligible impact on a zebra's ability to stay hidden.
Instead, the researchers argue, the stripes are most likely a defense mechanism designed to dissuade certain types of horse-flies from biting.
Source: Forbes | Comments (10)
Tags: Zebra, Stripes