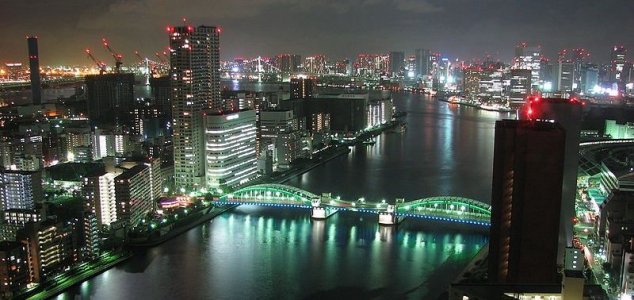 The new tower will become a distinctive part of the Tokyo skyline.

Image Credit: CC BY-SA 2.0 Ian Muttoo
The new 'Sky Mile Tower' will be twice the height of the current tallest building - Dubai's Burj Khalifa.
Standing at 5,577ft in height, the ridiculously tall building will be situated in Tokyo bay to the southeast of the capital and will provide residential and commercial facilities for 55,000 people.
In addition to the main tower, a series of hexagonal islands will be built in the water around its base to help protect the city from flooding and to provide a foundation for more homes in the future.
Electricity for the building will be generated by a combination of solar panels, wind turbines and algae farms situated on the islands below. The tower will also be able to collect and store rainwater meaning that it won't be necessary to pump a supply up from the ground floor.
The ambitious project is currently still in the planning stages with a completion date set for 2045.
Source: Independent | Comments (21)
Tags: Japan, Sky Mile Tower