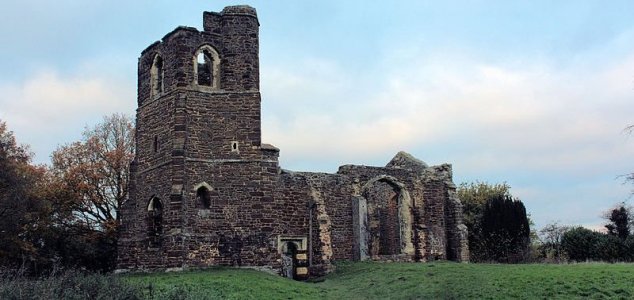 The ruined building has a long and varied past.

Image Credit: CC BY-SA 3.0 Brookie
Two paranormal investigators recorded a strange figure during a visit to a church in Clophill, England.
48-year-old Dean Johnson and his partner Charlie had traveled to the ruins of Old St Mary's Church earlier this month in the hope of capturing something paranormal on camera.
"We had been standing on the public road outside the church for 10 minutes and my partner Charlie was testing the camera on his phone," said Dean. "When Charlie looked back at his camera footage there appeared to be a black hooded monk walking across the archway."
The pair remain adamant that nobody else had been there at the time and upon further investigation they discovered that the tower was locked meaning that the figure would have had nowhere to go.
"Apparently in the 1960s there were a number of satanic rituals at the church where people were digging up bones and arranging them in satanic patterns," said Charlie. "We've travelled the length of Britain looking for evidence of ghosts but this is the best evidence we'd have so far."
The footage, which shows the ghostly figure walking across the archway, can be viewed below.
Source: BT.com | Comments (17)
Similar stories based on this topic:
Tags: Ghost, Monk, Church