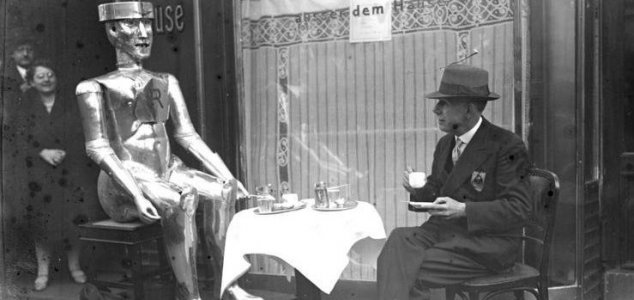 Eric proved a popular attraction across Europe.

Image Credit: CC BY-SA 3.0 Bundesarchiv, Bild 102-09312
A 1920s robot called Eric could soon be making a comeback thanks to the discovery of his original plans.
The primitive humanoid contraption, which was created by First World War veteran Captain William Richards and aircraft engineer Alan Reffell, had been designed to replace the Duke of York at the opening of an engineering exhibition in London back in 1928.
Like something that had just walked off the set of an old science fiction movie, the robot was able to move his arms, bow to the crowd and recite recorded messages while his teeth flashed with sparks.
Eric proved so popular in fact that he was even taken on a world tour, but then some time later he disappeared without a trace and his whereabouts have remained a mystery ever since.
Now though, curators at the Science Museum have managed to track down the original plans for the robot and are hoping to rebuild him and send him on another tour to promote a new exhibition.
"Eric was everything you imagined a robot to be," said Robots exhibition curator Ben Russell.
"He was a talking, moving man of steel. But what is most incredible is he was one of the world's first robots and the first one built in the UK."
"Audiences were wowed by him and he charmed dignitaries and celebrities across the world."
Source: Telegraph | Comments (6)
Tags: Robot, Eric