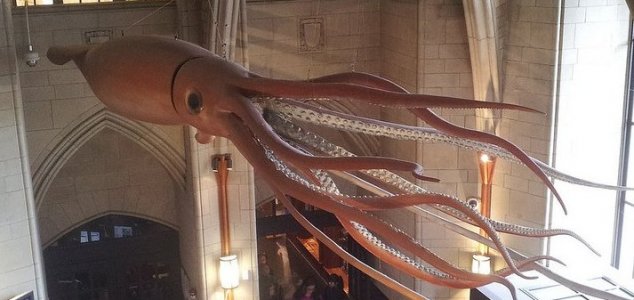 Just how large can a giant squid get ?

Image Credit: CC BY 2.0 Dan Century
A new study has suggested that giant squid may actually grow to be much larger than previously believed.
Very little was actually known about the giant squid until relatively recently and for centuries many considered these enigmatic cephalopods to be little more than the product of myths and stories.
Now however we know that not only are these deep-sea denizens genuine creatures, but that reports of their huge size, far from being an exaggeration, may actually be an underestimation.
To learn more about the species, fisheries ecologist and statistician Charles Paxton has been analyzing hundreds of specimens to determine just how large these animals can grow.
His results have suggested that giant squid can reach sizes of up to 64ft (20m) in length.
"I am extrapolating here, and extrapolation can sometimes be a bit sketchy," he said. "But I think these are fairly safe extrapolations. I genuinely think that [their] size has been underestimated."
It isn't clear exactly why giant squid grow to such an enormous size however Paxton believes that it may be some form of defense mechanism to protect them from being eaten by sperm whales.
"It'd be interesting to find out if they do ever reach a size where they cannot ever be eaten," he said.
Source: Live Science | Comments (9)
Similar stories based on this topic:
Tags: Giant Squid