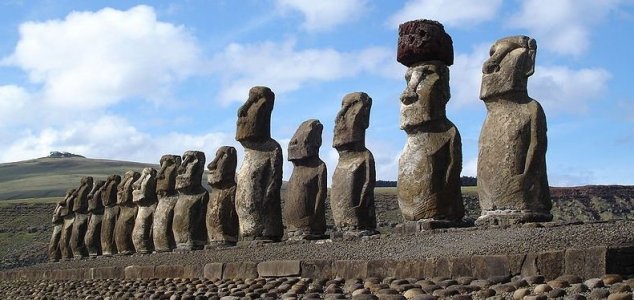 Did the people of Easter Island really wipe themselves out ?

Image Credit: CC BY 2.5 Honey Hooper
A new study has suggested that the inhabitants of Easter Island were not destroyed by warfare.
One of the most popular theories concerning the decline of the Easter Islanders suggests that, having exhausted the island's natural resources, the people fought amongst themselves over dwindling food supplies until the eventual collapse of their civilization.
Thousands of small obsidian spear points found scattered across the island were thought to point to this particular version of events, but now researchers led by Carl Lipo of Binghamton University have called in to question whether these objects were even weapons at all.
"We found that when you look at the shape of these things, they just don't look like weapons," he said. "When you can compare them to European weapons or weapons found anywhere around the world when there are actually objects used for warfare, they're very systematic in their shape."
Instead, he argues, these 'spear points' were more likely to be general purpose tools.
"What people traditionally think about the island is being this island of catastrophe and collapse just isn't true in a pre-historic sense," he said.
"Populations were successful and lived sustainably on the island up until European contact."
Source: Phys.org | Comments (11)
Tags: Easter Island