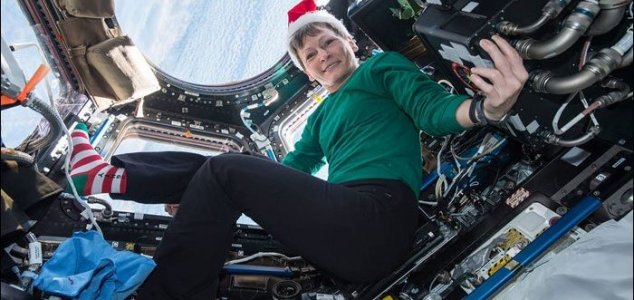 NASA astronaut Peggy Whitson has been getting in to the Christmas spirit.

Image Credit: NASA
Being 250 miles above the Earth hasn't stopped the space station crew from joining in with the festivities.
Astronauts including NASA's Peggy Whitson and France's Thomas Pesquet will be dining on several traditional Christmas day delicacies despite the limitations of a weightless environment.
While most of it is still thermostabilized, canned or dehydrated like other astronaut foods, NASA has managed to provide helpings of roast turkey, potatoes, green beans and cornbread stuffing.
Sweet treats such as fruit salad and chocolate cake have also been made available.
French astronaut Thomas Pesquet even managed to bring aboard a selection of tinned space cuisine such as chicken supreme and apple gingerbread courtesy of French chefs.
"I think Christmas is also a special time to remember that we should try to get along," he said.
"When we look at Earth through the window, we see that it's just a whole. I hope that people can take that time to try to get along, understand each other, and simply make the world a better place."
Source: Geek Wire | Comments (2)
Similar stories based on this topic:
Tags: Space Station, ISS, Christmas