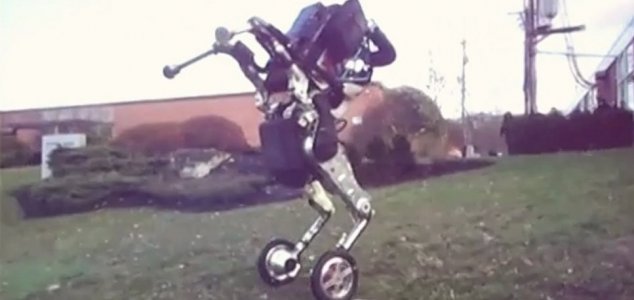 The new robot looks disconcertingly creepy.

Image Credit: Boston Dynamics
Known as Handle, the new robot has been described as 'nightmare-inducing' by founder Marc Raibert.
Famous for its impressive line-up of human and dog-like robots, Boston Dynamics has tried out something a little different this time around with a robot that moves on two wheels.
Revealed during a recent investor presentation that was leaked online, 'Handle' is so-named because it has been designed to carry heavy objects.
Relying on wheels to get around makes it less capable of traversing uneven terrain than some of the firm's other creations, but it is still quite agile nonetheless - as evidenced in the video below which shows Handle zipping across the ground and jumping over obstacles with ease.
"It can carry a reasonably heavy load on a small footprint and it's basically an exercise in seeing if we can do something like the humanoid that has less degrees of freedom but eventually could be less expensive but still have significant capability," said Raibert.
Source: Business Insider | Comments (19)
Tags: Boston Dynamics, Robot