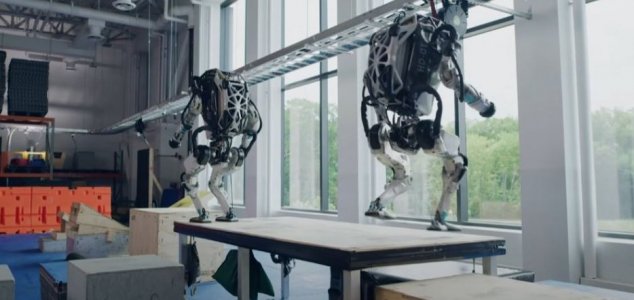 Robots are becoming increasingly sophisticated.

Image Credit: YouTube / Boston Dynamics
Two of Boston Dynamics' human-like Atlas robots have recently demonstrated their impressive parkour skills.
If there's one company that has continued to impress over the last few years, it's Boston Dynamics - the brains behind some of the most lifelike and capable robots the world has ever seen.
The company's Atlas robot is particularly impressive thanks to its humanoid design, impeccable balance and surprisingly athletic flexibility.
Now the firm has taken things one step further by creating a new video showing two of its Atlas robots not only climbing stairs, but also jumping, doing parkour and backflipping from one platform to another.
"Parkour is the perfect sandbox for the Atlas team at Boston Dynamics to experiment with new behaviors," the company writes. "In this video our humanoid robots demonstrate their whole-body athletics, maintaining its balance through a variety of rapidly changing, high-energy activities."
"Through jumps, balance beams, and vaults, we demonstrate how we push Atlas to its limits to discover the next generation of mobility, perception, and athletic intelligence."
You can check out the video for yourself below.
Source: Sky News | Comments (17)
Similar stories based on this topic:
Tags: Boston Dynamics, Robot