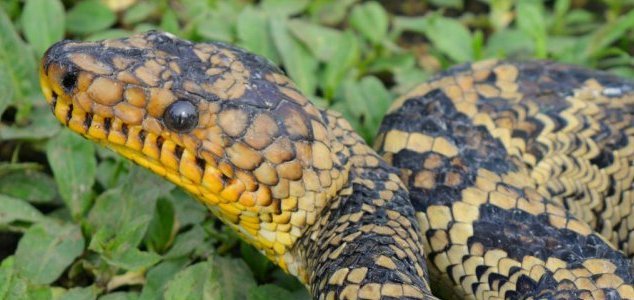 Cropan's boa.

Image Credit: Li­via Correa / Instituto Butantan / Facebook
One of the world's rarest snakes has been sighted again for the first time in more than six decades.
When it comes to rare snakes, few are as elusive as Cropan's boa - a species that has only been sighted a small handful of times since its discovery in Brazil's Atlantic Forest back in 1953.
Now though, following an extensive outreach program designed to educate the local community about the existence of the snakes, a live female specimen has finally been found.
The reptile narrowly avoided being killed and only survived because two people who had seen posters about the species intervened at the last minute.
Once scientists have completed their analysis of the snake it will be fitted with a tracking implant so that when it is released it will be possible to learn more about how it survives out in the wild.
"The snake will be studied in order to discover more information about its biology and habits," said Butantan Institute biologist Livia Correa. "As it has never been observed in nature, we do not have much information about its behavior."
"It will be released in its natural habitat and receive equipment with radiotelemetry that will enable its tracking in nature and the transmission of information to researchers."
Source: Live Science | Comments (15)
Tags: Brazil, Snake