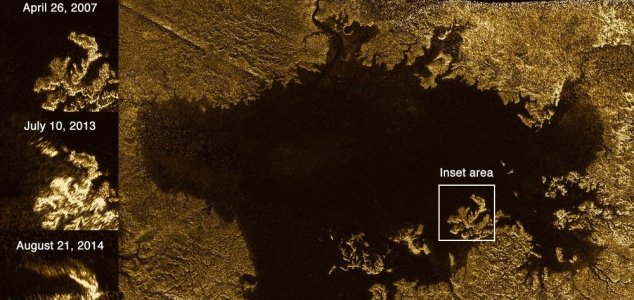 Images were taken over a period of several years.

Image Credit: NASA/JPL-Caltech/ASI/Cornell
Researchers in France have determined why entire islands have been vanishing from the surface of Titan.
The mystery surrounding Titan's 'magic islands' began in 2013 when photographs taken of its second-largest sea Ligeia Mare by NASA's Cassini spacecraft seemed to show entire islands appearing out of nowhere and then vanishing again a short time later without explanation.
Unlike the oceans here on Earth, the seas of Titan, being composed of liquid hydrocarbons, are believed to be extremely calm with very little movement. To have a whole island appear and disappear within such a short time frame suggested that something else had to be going on.
Now according to researchers from the University of Reims in France, large bubbles of nitrogen, ethane and methane that fizz up from the ocean's depths are likely to be responsible.
The 'magic islands' on the Cassini images, far from being actual landmasses, are simply areas of bubbling liquid that fizz up out of nowhere and disappear again just as quickly.
"Recent observations by Cassini's Radio Detection and Ranging (RADAR) instrument of Titan's large sea, called Ligeia Mare, have shown unexplained and ephemeral bright features, possibly due to rising bubbles," the researchers wrote.
"Here we report that our numerical model, when combined with experimental data found in the literature, shows that Ligeia Mare's bed is a favourable place for nitrogen exsolution."
Source: CNET.com | Comments (9)
Tags: Titan, Island