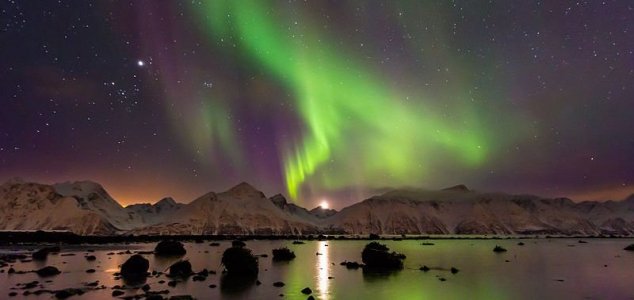 The Aurora Borealis is not alone in the Canadian skies.

Image Credit: CC BY 2.0 Carsten Frenzl
The phenomenon was first discovered by a group of amateur Aurora Borealis photographers in Alberta.
Consisting of a bright strip of light stretching from east to west, the peculiarly named "Steve" was first picked up by members of Alberta Aurora Chasers, a Facebook group frequented by people looking to share information about the best places to photograph the Northern Lights.
According to Professor Eric Donovan at the University of Calgary, "Steve" is essentially a strip of ionized gas traveling at around four miles per second across Canada.
"The really cool thing about this is the social media providing a nice bridge between the scientific community and these amateurs, who are incredibly talented observers of the night sky," he said.
Reaching temperatures of up to 10,800 degrees Fahrenheit ( the same as the Earth's core ), this peculiar phenomenon is 16 miles wide and thousands of miles long.
Chris Ratzlaff, the Facebook group's administrator, admits that his inspiration for the name "Steve" came from a joke in the 2006 animated movie "Over the Hedge".
Until Professor Donovan can complete his research in to the nature and origins of the phenomenon however it is likely that its unusual moniker will be here to stay.
Source: New York Times | Comments (3)
Similar stories based on this topic:
Tags: Steve, Aurora