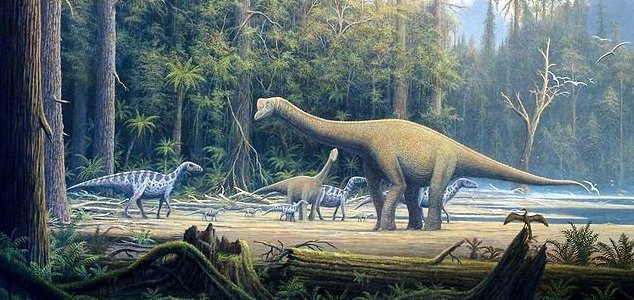 The newly discovered species was enormous.

Image Credit: CC BY-SA 2.5 Gerhard Boeggemann
One of the largest ever species of plant-eating dinosaur has been discovered at a museum in Switzerland.
Nicknamed 'Max', this gentle giant, which measured 30 meters in length and weighed up to 15 tons, would have been capable of stripping entire branches from trees with its huge peg-like teeth.
Dating back more than 150 million years, the species was very similar to Diplodocus with its long whip-like tail, long neck, small head and four huge pillar-like legs.
Officially known as Galeamopus pabsti, the dinosaur was discovered after experts realized that a specimen held for years at a museum in Switzerland actually belonged to a new species.
"Diplodocids are among the best known sauropod dinosaurs," said Dr Emanuel Tschopp, a palaeontologist from the University of Turin.
"Numerous specimens of currently 15 accepted species belonging to ten genera have been reported from the Late Jurassic to Early Cretaceous."
"The highest diversity is known from the Upper Jurassic Morrison Formation of the western United States: a recent review recognised 12 valid, named species, and possibly three additional, yet unnamed ones."
Source: News.com.au | Comments (0)
Similar stories based on this topic:
Tags: Dinosaur
Looking for more about dinosaurs ? Check out...
The Complete Illustrated Encyclopedia Of Dinosaurs & Prehistoric Creatures
by Dougal Dixon
Ranging from gentle plant-eaters to ferocious giants - this concise guide to dinosaurs and other prehistoric animals features fully illustrated descriptions of over 1,000 dinosaur species from the Triassic, Jurassic and Cretaceous eras.
Written by Dougal Dixon, a geologist specializing in earth sciences, this comprehensive reference even includes maps showing the sites where important fossils have been found.