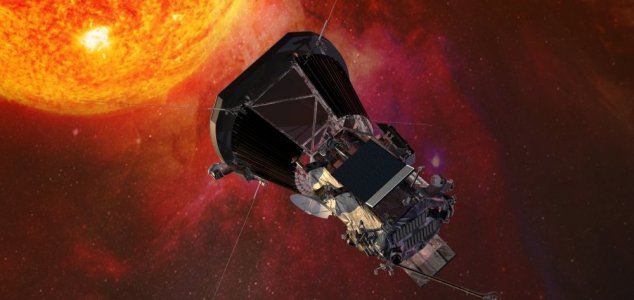 An artist's impression of the probe.

Image Credit: Johns Hopkins University Applied Physics Laboratory
The probe, which has been renamed the Parker Solar Probe, will be launching as early as next year.
NASA has finally confirmed the details of the mission which, for the first time, will be sending a spacecraft to within a mere four million miles of the Sun's surface.
Its name is a tribute to American solar astrophysicist Eugene Parker who originally predicted the existence of the solar wind, something that at the time was considered 'crazy' by his peers.
One of the things that the spacecraft will be investigating is the fact that, counter-intuitively, the temperature is actually much, much hotter in the Sun's atmosphere than on its surface.
Unsurprisingly though, building a probe capable of withstanding such extreme temperatures is no easy task. Physicist Tim Horbury has described it as "just on the edge of achievable".
"There is a tiny spacecraft cowering behind this big heat shield," he said. "It is just extreme - everything is different when you are that close in [to the sun]."
"The thing about space is everyone has done the easy stuff - we are only left with the difficult things, so by definition this is risky. They are really pushing the limits of what is possible."
"But that is the way you make progress."
Source: The Guardian | Comments (40)
Tags: Parker Solar Probe, Sun