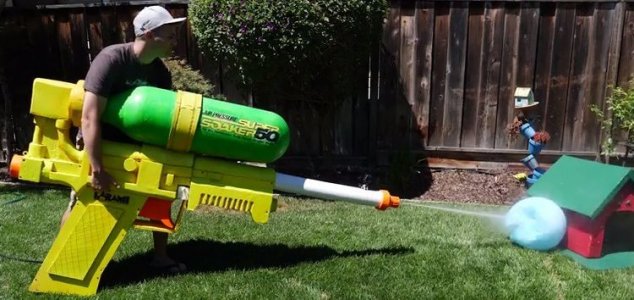 You really don't want to get hit by this thing at close range.

Image Credit: YouTube / Mark Rober
Former NASA engineer Mark Rober has created a super-powerful water gun capable of firing at 243mph.
The record-breaking contraption, which looks exactly like a regular-sized Super Soaker but massively scaled up, is so powerful that it can break glass and cut watermelons in half.
Producing a jet of water with a force of 2,400 pounds-per-square-inch ( eight times greater than that of a fire hose ), the super-powered water pistol took six months to build.
Its immense power relies on a tank of nitrogen gas which is stored inside the handle.
The Super Soaker is not the only giant-sized gun that Rober has created either - last summer he built the world's largest nerf gun which could fire foam darts at speeds of up to 40mph.
He has also been working on 'the world's nicest car horn' as well as a 'smart' dart board.
Source: Huffington Post | Comments (6)
Tags: Super Soaker, Water