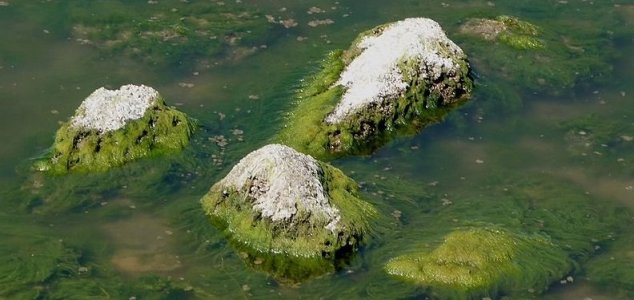 Nutrients from the mountains were washed down in to the oceans.

Image Credit: CC BY-SA 3.0 Daniel Mayer
A sea algae boom has been credited with the rise of the first complex life forms in Earth's distant past.
While life is known to have existed on our planet for several billion years, up until around 650 million years ago it consisted of mostly simple life forms such as bacteria, viruses and primitive jellies.
Exactly how things went from this to the evolution of large animals within such a relatively short space of time had long remained something of a mystery, but now scientists at the Australian National University believe that they may have finally found the answer.
The key lies in a period in Earth's history during which most of the planet was covered in ice and snow.
For around 50 million years, massive glaciers pulverized mountain ranges across the globe and when the ice finally melted, this rich mountain 'dust' was washed back in to the oceans in large quantities where it very quickly produced a boom in sea algae and kick-started the evolution of larger organisms.
"Before all of this happened, there was a dramatic event 50 million years earlier called Snowball Earth," said lead researcher Associate Professor Jochen Brock.
"The Earth was frozen over for 50 million years. Huge glaciers ground entire mountain ranges to powder that released nutrients, and when the snow melted during an extreme global heating event rivers washed torrents of nutrients into the ocean."
"These large and nutritious organisms at the base of the food web provided the burst of energy required for the evolution of complex ecosystems, where increasingly large and complex animals, including humans, could thrive on Earth."
Source: Telegraph | Comments (16)
Tags: Sea Algae, Animals