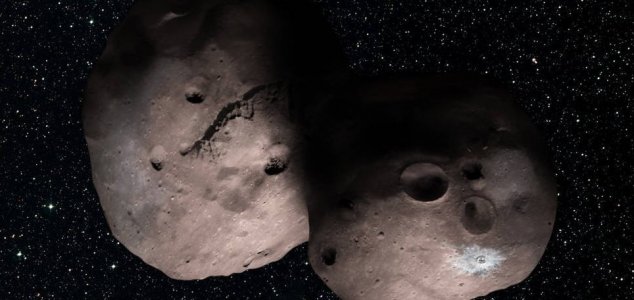 An artist's impression of what MU69 might look like.

Image Credit: NASA/JHUAPL/SwRI/Alex Parker
The next target of NASA's New Horizons probe is a space rock with some rather intriguing properties.
Following its historic flyby of Pluto two years ago, the spacecraft has been heading towards MU69 - an object with a mass approximately 10,000 times that of the comet visited by ESA's Rosetta probe.
Measuring around 30 miles in diameter and with an orbit that takes it around the Sun once every 295 years, this enigmatic space rock will be the most distant object ever visited in the history of spaceflight.
Now, following a recent opportunity to observe MU69 as it passed in front of a star last month, astronomers have revealed that the probe's new target may not be quite what it seems.
Surprisingly, rather than being a lone spherical object, MU69 may actually be an "extreme prolate spheroid", which means that it is similar in shape to a deflated football.
Its unusual shape may even suggest that there are actually two objects rather than one.
"This new finding is simply spectacular," said mission principal investigator Alan Stern.
"The shape of MU69 is truly provocative, and could mean another first for New Horizons going to a binary object in the Kuiper Belt."
Source: NASA | Comments (10)
Similar stories based on this topic:
Tags: New Horizons, MU69