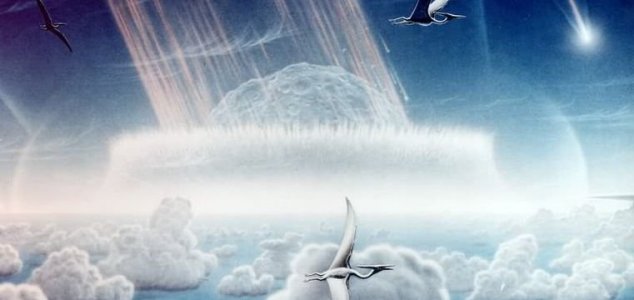 The impact proved utterly devastating.

Image Credit: NASA / Donald E. Davis
Scientists have revealed the immense destructiveness of the asteroid that wiped out the dinosaurs.
The space rock that struck our planet 65 million years ago proved so devastating that it is quite remarkable that anything at all managed to survive the apocalyptic conditions that followed.
The impact itself, which would have killed every living thing for hundreds of square miles, triggered massive tsunamis, earthquakes and volcanic eruptions across the entire planet.
Thick clouds of smoke, dust and ash encircled the globe, blotting out the Sun and bringing about an extended period of freezing darkness that would have lasted up to 18 months.
Even when the dust finally settled and the Sun re-emerged, the damage done to the ozone layer by chemical reactions in the upper atmosphere would have robbed the planet of its protective barrier, exposing whatever life was left to harmful ultraviolet radiation.
By the time the effects of the asteroid impact settled down, 80% of life on Earth had gone extinct.
"The extinction of many of the large animals on land could have been caused by the immediate aftermath of the impact, but animals that lived in the oceans or those that could burrow underground or slip underwater temporarily could have survived," said researcher Dr Charles Bardeen.
"Our study picks up the story after the initial effects - after the earthquakes and the tsunamis and the broiling. We wanted to look at the long-term consequences of the amount of soot we think was created and what those consequences might have meant for the animals that were left."
Source: Independent | Comments (9)
Tags: Asteroid, Dinosaurs