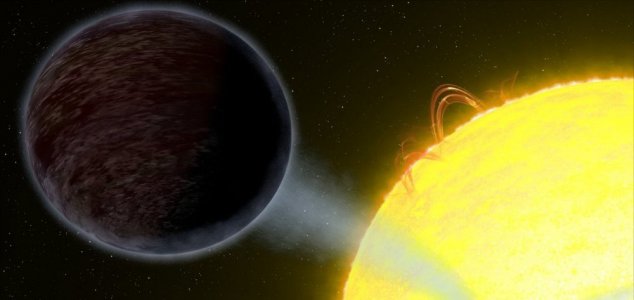 WASP-12b is both incredibly hot and incredibly dark.

Image Credit: NASA, ESA, and G. Bacon (STScI)
A 'hot Jupiter' world situated 1,400 light years away reflects so little light that it appears pitch black.
Known as WASP-12b, this distant exoplanet has a radius twice that of Jupiter and orbits its parent star so closely that one year is the equivalent to a mere 24 hours here on Earth.
Now using the Space Telescope Imaging Spectrograph (STIS) on the Hubble Space Telescope, astronomers have revealed another surprising property of this planet - an albedo of 0.064.
This means that it reflects next to no light at all and appears almost totally black.
The main reason for this, scientists believe, is the extreme temperature of its atmosphere which prevents clouds from forming and can even break up hydrogen molecules into atomic hydrogen.
Its atmosphere is so hot in fact that it acts more like that of a low-mass star than a planet.
"There are other hot Jupiters that have been found to be remarkably black, but they are much cooler than WASP-12b," said study lead author Taylor Bell.
"For those planets, it is suggested that things like clouds and alkali metals are the reason for the absorption of light, but those don't work for WASP-12b because it is so incredibly hot."
Source: Space Telescope | Comments (4)
Similar stories based on this topic:
Tags: Extrasolar Planets