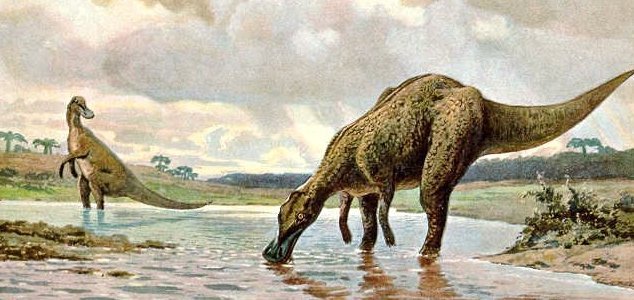 Hadrosaurs may have dined on crabs as well as on plants.

Image Credit: Heinrich Harder
Fossilized droppings have revealed that some herbivorous dinosaurs occasionally snacked on seafood.
In the lush environment of the Cretaceous, plant-eating dinosaurs would have usually had more than enough to eat, but now a fascinating fossil unearthed in Utah has revealed that some stringently herbivorous dinosaurs may have sometimes supplemented their diets with crabs and crayfish.
"It's a very unusual case of an herbivorous dinosaur supplementing its diet with something else," said palaeontologist Paul Barrett from the Natural History Museum in London.
Dating back 75 million years, the fossil dung was likely from a hadrosaur - a type of large duck-billed dinosaur found across Asia, Europe and North America.
It is likely that these animals would have scavenged along prehistoric shorelines for things to eat.
"Hadrosaurs were some of the biggest animals in their ecosystems, so they probably couldn't have afforded to be too selective about what they were eating anyway, lest they starve to death," said Jordan Mallon, a palaeontologist at the Canadian Museum of Nature in Ottawa.
Source: Scientific American | Comments (8)
Similar stories based on this topic:
Tags: Dinosaurs