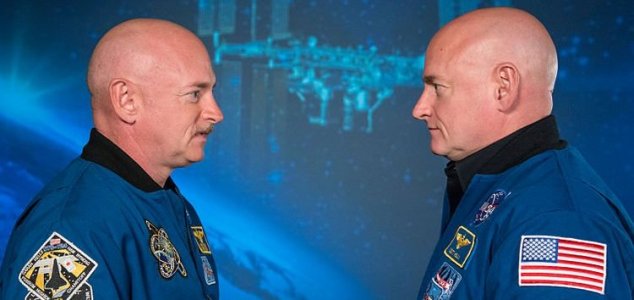 NASA astronauts Mark and Scott Kelly.

Image Credit: NASA
NASA has revealed some of the results of its recent experiment involving twins Scott and Mark Kelly.
Just before Scott Kelly began a 12-month stint on the International Space Station two years ago, scientists conducted a series of tests on both him and his twin brother, Mark.
After Scott returned from space, further tests were carried out to compare his physical well-being to that of his brother who had remained on the ground the whole time.
The scientists noted that Scott's DNA showed signs of excessive methylation - a process through which cells attach chemicals called methyl groups to DNA molecules.
While this happens to be a normal process that occurs in everyone, in Scott's case it seemed as though his body's efforts to adjust to life in space had resulted in a much higher rate than usual.
"Some of the most exciting things that we've seen from looking at gene expression in space is that we really see an explosion, like fireworks taking off, as soon as the human body gets into space," said investigator Chris Mason.
"With this study, we've seen thousands and thousands of genes change how they are turned on and turned off. This happens as soon as an astronaut gets into space."
Source: Popular Mechanics | Comments (8)
Tags: Twins