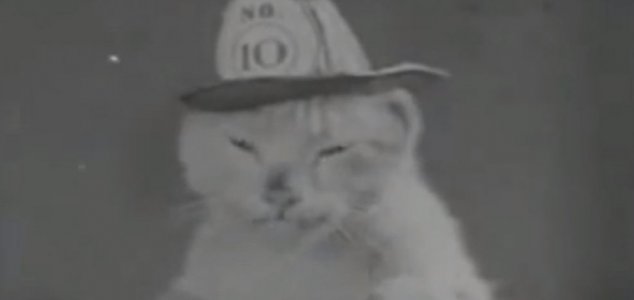 Mickey dons his fireman's helmet.

Image Credit: Facebook / Old Minneapolis
Newly resurfaced footage from the 1930s shows the remarkable life of Mickey the Minneapolis fire cat.
The quirky black-and-white film follows the feline mascot of Station 10 which, according to the Old Minneapolis Facebook page, was situated on N. 4th Street between Hennepin and First Av. N.
The footage, which was recorded in 1936, details Mickey's close relationship with the station's crew and shows him hopping in to the department's fire cruiser and joining the men on call-outs.
The fearless cat is even shown sliding down the fireman's pole and donning his very own fire helmet.
Source: Star Tribune | Comments (12)
Tags: Mickey, Cat, Fire Station