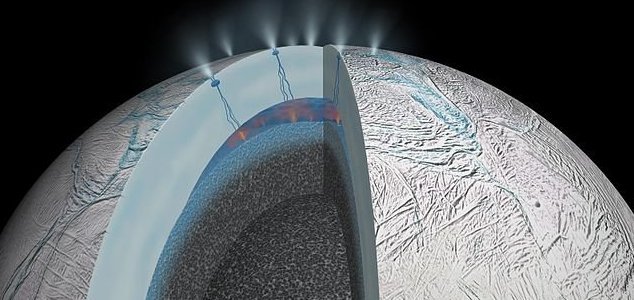 Enceladus is looking like an increasingly good place to search for life.

Image Credit: NASA/JPL-Caltech
Scientists now believe that the ocean of Enceladus has been around long enough for life to have evolved there.
Of all the discoveries made by NASA's Cassini spacecraft during its 13 years in orbit around Saturn, those concerning the gas giant's enigmatic moon Enceladus are perhaps the most enticing.
The surface of this mysterious world is home to huge plumes of salty water-ice and below its icy crust there is thought to be an ocean of liquid water capable of supporting primitive life forms.
Now in a new study, scientists have been able to determine that the tidal forces responsible for heating up the interior of Enceladus are likely to have kept its subterranean sea liquid for billions of years.
The find significantly increases the likelihood that life might have evolved there.
"What we show is hydrothermal processes probably provide means to have efficient interactions between rocks and hot water in a large volume deep within the moon," said Dr Gael Choblet.
"What had been shown earlier is hydrothermal processes were very likely occurring right now within Enceladus. What we show in our study is the context of this activity."
"We also suggest this activity is relatively stable - for at least tens of millions of years."
Source: Phys.org | Comments (7)
Similar stories based on this topic:
Tags: Enceladus